Let's restrain from the jokes that surround the name of this pay-per-view and focus more on the quality of matches, because I see quality. There's a lot of implications on what direction the WWE's going to take their brand, are they going to continue to excuse the absence of their world champion or give their freshest face their deserved title push. That said, Brock Lesnar continues to establish himself as the biggest name in the WWE and even pulls through when he's against a worthy opponent and Samoa Joe is most definitely worthy.
We'll see the budding relationship between Alexa Bliss and Sasha Banks as their feud hits their first stride in their feud. The Hardy Boyz cash in their rematch clause and challenge for the Raw Tag Titles against Sheamus and Cesaro in an iron man match. We also have the continuing Braun Strowman and Roman Reigns in an ambulance match in reference to the time Braun Strowman got away with destroying city property.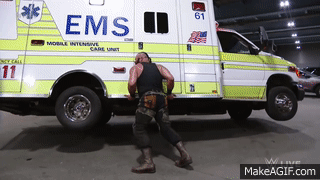 Let's break this card down and see where WWE wants to take us going forward.
---
WWE Great Balls of Fire 2017 Viewing Details
Date: Sunday, July 9, 2017
Time (kick-off show): 7:00 P.M. EST
Time (main show): 8:00 P.M. EST
TV Channel: WWE Network / Pay-Per-View
Location: American Airlines Center, Dallas, Texas
---
Match Previews
Sheamus & Cesaro vs The Hardy Boyz
The feud between these two clubs has been consistent with each team getting an even amount of offense and a variety of matches to keep things fresh. An iron man match is a fitting conclusion to any feud and a guaranteed 30 more minutes to this feud is definitely going to be welcomed.
I really see the Hardy Boyz taking back the titles because the RAW tag division is vacant of anyone really established to make a feud with the Hardy Boyz convincing without the titles in the picture. Unless they want to break the Hardys up which is a bad idea considering the world title picture is already stuffed and the tag division needs some star power. Don't know what comes of Sheamus and Cesaro after this but they always have a home in the mid card.
Prediction: Hardy Boyz win the RAW Tag Team Championship
---
Enzo Amore vs Big Cass
Exhibit A on why the RAW Tag Division is so limited right now was the breakup between Enzo and Big Cass. Although if there was any good to come out of this it'd be increasing Enzo's range which has been embraced by the crowd. This split might be good for them in the long run and it's not like the WWE can't ever have them reconvene whenever they feel like it.
Little concerned about Big Cass, he might end up being another big body that Vince McMahon likes to keep pictures of across his ceiling. It all comes down to booking him right and the first right move to make to establish Big Cass is to have him get disqualified for over decimating Enzo so these two can show more of their potential.
Prediction: Enzo Amore wins via disqualification
---
Seth Rollins vs Bray Wyatt
It's important that you always keep busy but it's not ideal. That's how you would go about describing this match, keeping busy. Bray Wyatt, who's already been having attachment issues with the world title picture is back to meaningless feuds this time featuring Seth Rollins. It's going to be nice to see these work in the ring together, but it'd be nice if there was a little more substance than "We were in the same match a month ago."
Maybe Rollins and Wyatt will have the freedom in the ring to give us something compelling because the creative team hasn't bothered. Hopefully the writers are as tired of Wyatt scoring meaningless PPV victories as we are and will let Rollins score one here so they can find something else to do during Summerslam unless they really want to give us something to look forward to with this feud which they don't seem animate about doing.
Prediction: Seth Rollins beats Bray Wyatt
---
Intercontinental Championship: The Miz vs Dean Ambrose
The Miz can hold the Intercontinental Championship for the rest of his career and there wouldn't be a single complaint to be made by anyone. Holding it gives him all the validation in the world for his character and he seems lost in the shuffle if he isn't holding a title. He'll never get close to a world title with all the star power on RAW which is unfortunate because he brings a lot to whatever title he's holding.
Ambrose hasn't been able to do anything when he's been given gold on any level and it was confirmed with his last world title run when he didn't do anything with it and was immediately shown up by AJ Styles subsequent run with it. Hard to tell if it was the fault of Ambrose not being a bankable champion or if it was bad booking, but it's been hovering over Ambrose since.
This feuds been an open bag of potato chips, they both need something new before it starts hurting both of them.
Prediction: The Miz retains the Intercontinental Championship
---
RAW Woman's Championship: Alexa Bliss vs Sasha Banks
Alexa Bliss has had no problem carrying over her success from the Blue Brand as shown from her interactions with Sasha Banks. The woman's division has a feud that can carry it for a few months as Bayley tries to find her footing on the roster, most likely into Hell in a Cell.
If this feuds going to last that long, I expect Banks to keep the title warm for Bliss during this summer for when they have their rematch at Summerslam. These two are going to give us a nice series of matches in the coming months and we should all be excited for it. Hopefully they don't rush anything.
Prediction: Sasha Banks wins the RAW Woman's Championship
---
Ambulance Match: Roman Reigns vs Braun Strowman
Strowman has a lot to gain in this match, beating Reigns really boosts his credibility and won't hurt Reigns in the slightest. Nothing makes more sense than Strowman winning, that's what's worrying. Although to WWE's credit, they've pulled their punches when it comes to Reigns recently putting him on a more leveled playing field than what was being pushed earlier in his singles career.
If the rules of momentum apply, Reigns should lose this bout after  he speared Strowman off the goddamn stage. But it's guaranteed whoever wins this match most likely goes into Summerslam to fight for the title so if Reigns needs to win so we can finally get this Lesnar vs Reigns rematch out the way than please pull the band-aid off. I think Strowman's momentum could live on if he lost to Reigns here and beat Reigns once he takes the title off Lesnar if WWE really wanted to do Reigns vs Lesnar at Summerslam. But then we go back to the rules of momentum and Storwman now has to win this match.
Prediction: Strowman beats Reigns
---
WWE Universal Championship: Brock Lesnar vs Samoa Joe
Are they really going to run with these sporadic appearances from Lesnar until Wrestlemania? With the way ratings have been without the champion it doesn't help but feel like filler. Now that Lesnar's been on television again, the title picture has been as exciting as it's ever been before in its short life span especially with how well booked this feud has been. But we know it won't last, we know Lesnar will go back into seclusion post Summerslam with or without the title.
Samoa Joe would probably win this if it was anybody else holding it due to how hot he is right now, but he's going to have to wait a little while longer before he gets his legacy run with the title. Also Summerslam needs a big name attached to its main event and there's no bigger name on the roster than Brock Lesnar at this moment. I expect these two to put on a strong showing and have moments that make you think Samoa Joe can actually pull it off, but Lesnar will be going into one of the WWE's big four events as the champion.
Prediction: Brock Lesnar retains the WWE Universal Championship