"Dear God," I mumbled after visiting Miss De Paula's page on the social media site known as Instagram.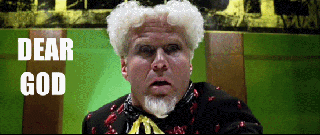 Don't want to shoot myself in the foot here, but the gallery above doesn't do her Instagram justice. Her IG is a total onslaught-knockout after knockout. The bystanders never stood a chance.
She makes Derek Zoolander look like a Gerber Baby, folks. She makes Hansel look like Little Debbie. I don't mean no disrespect to the all-time greats, but it's like Anne's on a different catwalk on a different planet. She's got the Blue Steel, Ferrari, and Le Tigre looks in her back pocket. No word on Magnum yet, but I hear it's gonna blow us all away.
And… she can turn left!
From what I gather, Anne De Paula is a 22-year-old model from Brazil, who rose to fame after landing a coveted feature on the 2018 Sports Illustrated Swimsuit Issue. She's already worked for some of the highest profile names in the business, and is sure to continue with her recent SI success.
De Paula has been dating singer-songwriter Danny O'Donoghue for three years. He's a 38-year-old Irishman who's the frontman for The Script.