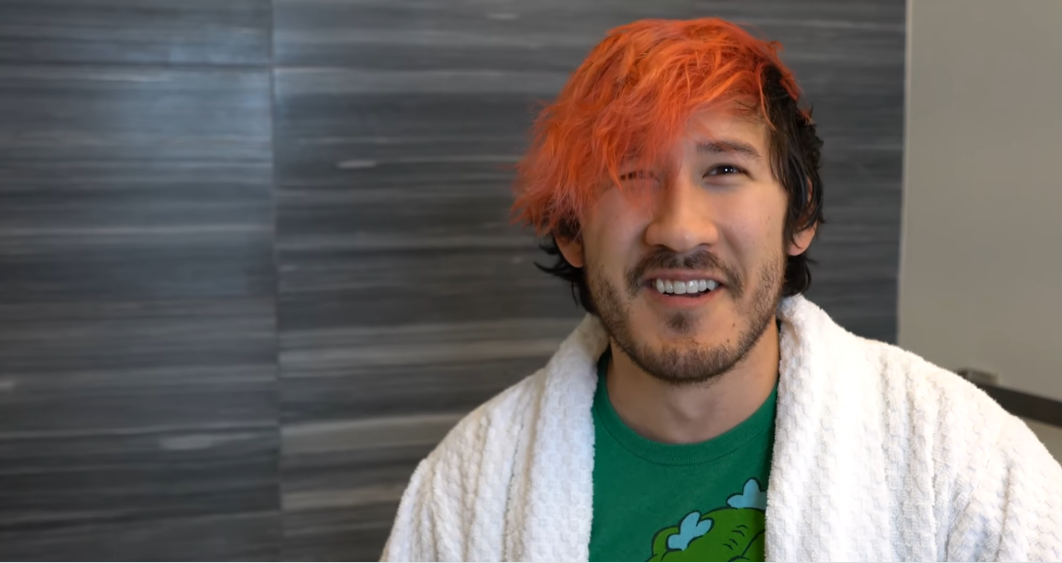 Mark "Markiplier" Fischbach has become an internet sensation. The Hawaiian-born gaming YouTuber started making YouTube videos in early-2012, and after five years of making daily videos he's accumulated over 17 million subscribers, over 7.5 billion video views and raised over $1.1 million for charity. Forbes also rated Markiplier as the most influential gamer in the world. He's a beloved icon to millions of fans and one of the greatest YouTube stars of all time.
Who is Markiplier?
Full name: Mark Edward Fischbach
Alias: Markiplier
Born: June 28, 1989
Residence: Los Angeles, California
Affiliation: Markimoo, Shane Walsh, Mark-bot, Santa Clause
Nationality: Hawaiian
Occupation: YouTube Star
Rank: 29th most subscribed YouTuber in the world (as of June 2017)
The Hawaiian YouTuber Mark "Markiplier" Fischback won the award for the top gaming influencer in
Who is Markiplier aka Mark Edward Fischbach
The internet sensation was born in Honolulu, Hawaii, and was raised in Cincinnati, Ohio. He's half-Korean from his mother and half-German from his father. He only knows English, even after trying to learn a few other languages like Portuguese.
Mark's father passed away when Mark was 21 years old, which drove him into a depressive state. Around this time, Mark was studying to become a biomedical engineer at the University of Cincinnati. When his YouTube career started to kick off, however, he dropped out of college to pursue his career on YouTube.
His first account had its revenue removed when YouTube banned his AdSense account. After an unsuccessful un-ban appeal, he decided to make a new YouTube channel called MarkiplierGAME to continue his work on there. His content catered to "Let's Play" game playthroughs and game previews of games like Amnesia and Serious Sam 3.
His subscriber base slowly grew from there. After only one year, he was hitting 1 million subscribers and seeing his channel views break 10 million.
He was featured on Jimmy Kimmel Live! in September after Host Jimmy Kimmel received a lot of fan hate from making light of his "Let's Play" series.
Mark was already making huge strides towards becoming an international sensation. After creating over 1,200 videos, the YouTube sensation was named one of New Media Rockstars' Top 100 Chanels, placing 61st on the list. He then moved out to Los Angeles to pursue networking opportunities with other YouTubers and for the new YouTube Space program. By this time, he was already at 1.4 million subscribers and was featured prominently in YouTube rewind.
Progress went even faster as he kept creating his lovable videos, because after 2015 rolled around, he had already made a whopping 8 million subscribers. He stayed loyal to his fans throughout all of his progress and fast channel growth though, making reaction videos with fans and interacting with them through his Reddit as often as he could.
Now, his channel supports over 17 million subscribers and has over 7.5 billion video views. He continues to make daily videos and is always open to hanging out with fans.
Mark hosts charity live streams often in which he raises money to give to charities he likes, like the Cincinnati Children's Hospital and the Human Rights Campaign and has raised over $1.1 million in donations so far.
He also helped Pewdiepie, Revelmode, a subnetwork of Maker Studios, and a few other YouTubers to host a YouTube livestream called "Cringemas," in which the crew raised over $1.3 million for the Gates Foundation on December 10th of last year.
Markiplier stands out as an inspirational figure to many people in the world, especially the younger demographics. His heartfelt, genuine attitude spreads charisma and love to his audience and provides laughter and smiles to the viewers he caters to. He's a legendary YouTuber and can be considered one of the most influential figures in our generation.
Wherever he takes his career path, you can be sure he'll be taking millions of devoted fans with him to share in his prosperity.